Features
PAY family, friends and bills (or request money from them!),
SAVE for your dreams, CONTROL your budget with x-Cards and spend categorisation.
Creating a new habit of saving money
You have to commit to your dream if you want to achieve it. But, it has never been easy and we understand that. That's why, we have Save It to help you. It's a new, easy and fast way to achieve your dream.
GET JENIUS
Flexi Saver
A car breakdown cover? A hospital bill? Forgetting a birthday? These unexpected expenses could affect your finances. Now you can start planning for whatever may come next by setting aside money for any sudden expenditures. Flexi Saver will help you with this. With the flexibility to add and refund money anytime you want. Plus, 5% interest p.a.
How to create Flexi Saver
Open Save It in your Jenius app
Click Create Flexi Saver in the Flexi Saver menu
Insert the expected amount and click Confirm
Dream Saver
Count down the days to your dreams coming true. State your goal, set the date, decide the budget and Jenius will auto-calculate and auto-save your money until the D-Day.
Start saving for your dream
Dream Saver helps you achieve your dream faster by having a specific saving separate from your main balance. The budget for your dream is safe from your daily transaction. You can opt to set your money to be debited on a daily, weekly or monthly basis or you can set the time and Jenius will auto-calculate your saving.
There's no dream you can't achieve
You can use Flexi Saver for general savings and long-term investment. For specific fixed goals, you can start saving on Dream Saver. Everyone can only has 1 Flexi Saver, since it's flexible, but you can have up to 10 Dream Savers. You can also enjoy a 5% interest p.a.
Maxi Saver
Maximize your saving with introductory rate of 5.75% p.a. with your choice of maturity periods from one to 12 months. The more money you deposit, the higher interest you'll get. The longer the term you opt for, the more money you'll receive.
Choose the roll over setting
In addition to saving in a specified period of time, you can also choose the roll over principal you needed; Automatic Roll Over or Automatic Roll Over + Interest or end your terms and automatically retract your savings and interest from your Maxi Saver. Read the Terms & Conditions.
How to maximize your money with Maxi Saver
Open Save It in Jenius app
and choose Create New Deposit in Maxi Saver.
Start by putting the number of principal. From minimum of IDR10,000,000, you will receive 5.75% p.a. interest rate. Set your own term starting 1 to a longer term up to 12 months and then click Next.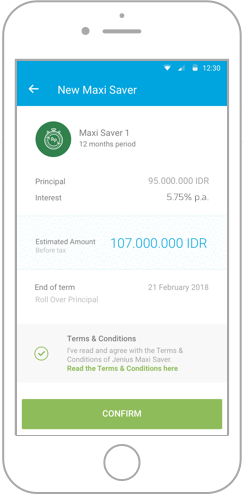 Check the given information, read the Terms & Conditions and then click Confirm.
Congratulation! you have created a Maxi Saver.
3 most asked questions
What is Maxi Saver?

Maxi Saver is a Term Deposit that lets you earn a higher interest rate for a period of time. Maxi Saver is suitable for you who don't need immediate access to your funds.

What interest rate will I be entitled for if I opt to automatically roll over (ARO) my Maxi Saver?

If you choose to automatically roll over (ARO) your Maxi Saver, your interest rate for the subsequent term will adjust to the rates that apply during your roll over period.

If there are changes in Maxi Saver interest, will my Maxi Saver interest also change?

Your Maxi Saver interest is fixed for the duration of the term you have chosen until it matures. If there is rate changes, your Maxi Saver rate will not change.
/?php if ( get_edit_post_link() ) : ?> /?php endif; ?>